Mykonos is famous for its beautiful beaches with the soft golden sand and the crystal clean waters. There are different beaches for any taste: party beaches, family-friendly, wild and organized, beaches for relaxation or water sport. We will suggest 10 beaches that may cover any mood and budget and which are "must" see while you are staying in Mykonos.
Family oriented beaches
 Ornos beach
Centrally located (3 km from Mykonos town) Ornos is a well organized beach where someone can find numerous beach front restaurants-cocktail bars and enjoy clear sea water. It's an ideal beach for families with children – because of the shallow sea and the soft sand it is quiet easy to get into the water. Moreover, it's perfectly protected from wind due to its location, for that reason you will find many locals there! Last, but not least, the Ornos area is a whole village with bakeries, super-markets, pharmacies and restaurants, so it's a place where you'll find anything you may need.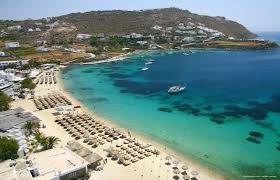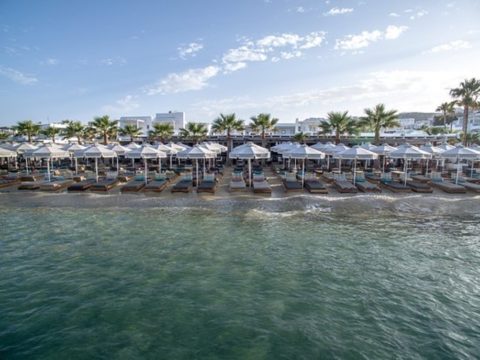 Platis Gialos beach
6 kilometres in the south of Mykonos Town,Platis Gialos is a very beautiful, busy beach for tourists and families. The entrance inside the sea is very soft and smooth, ideal for children. It also is the perfect beach for anyone who enjoys water sports! However, as there are many hotels and apartments located in the area, it may be difficult to find free sunbeds or a parking spot, so it's advisable to make a reservation in prior.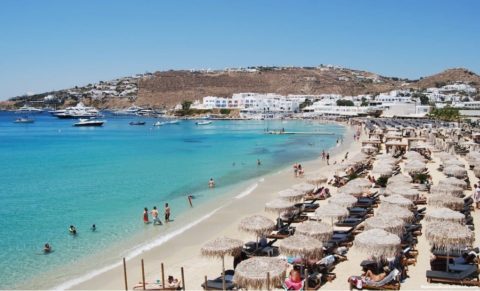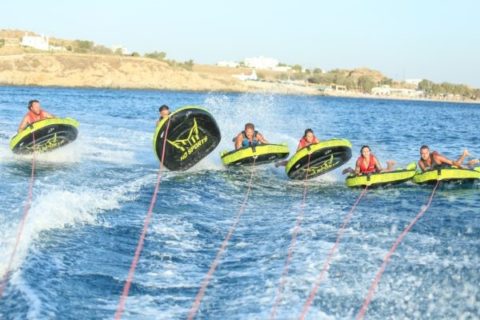 Agia Anna
If you enjoy walking and exploring new places, then we highly recommend finding and following a hidden path from the Platis Gialos beach to Agia Anna Beach. You will find a small, quiet beach with a family of peacocks living on the rocks and if you are lucky you can hear them shouting or even see them walking across the beach. One more reason to pay a visit to Agia Anna is the Nikolas Taverna: one of the oldest tavernas on the island! It's a perfect place where all the locals are going to eat fresh fish and "ouzo shrimps" and enjoy a local and traditional atmosphere.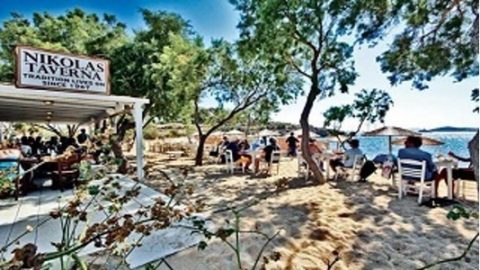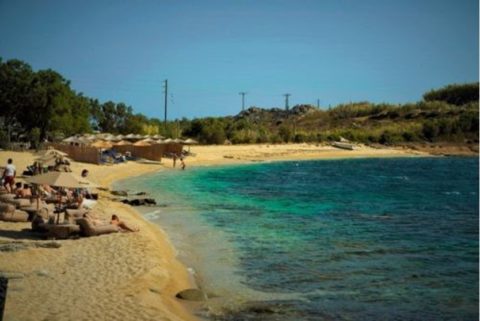 Glamorous Beaches
Paraga
A beach located right next to Agia Anna is Paraga. It's famous for the Scorpios project which encompasses multiple beach areas, a restaurant, a live event space and open-air terraces spilling into the Cycladic coastline, but also the Santana Project: the biggest saltwater swimming pool in Europe. You can also find other restaurants/beach clubs there as Kalua beach and Tasos Taverna – every restaurant has its own parking and there is also a bus going to town every 30 minutes–1 hour.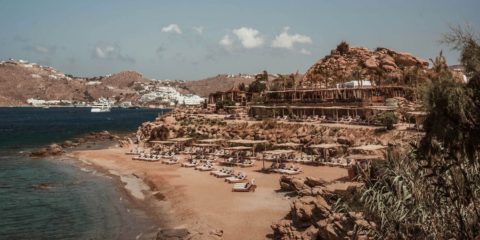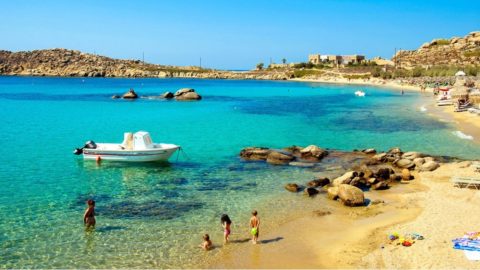 Panormos
A previously undiscovered quiet beach has been transformed into one of the most glamorous spots in Mykonos. The Principote restaurant located on the beach is very famous for its prestigious cocktail parties, high quality food and big beach area. As in the most popular restaurants, a reservation is necessary. There is a bus going to Mykonos Town and back 4 times a day.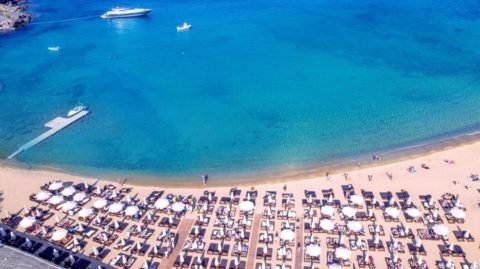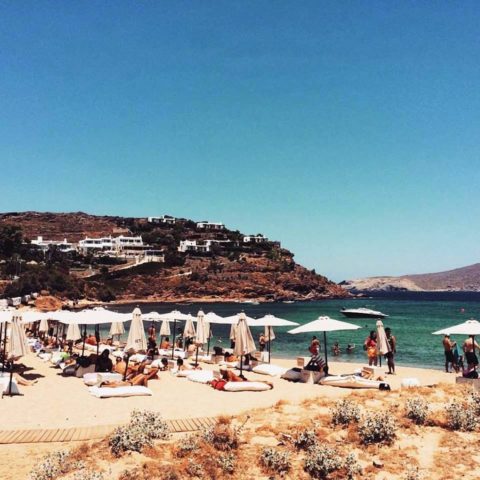 Psarou beach
Just one bus stop after Platis Gialos beach, Psarou is one of the most popular  and busy beaches on the island. It's well known for the luxury beach-club "Nammos" which is extremely famous for attracting celebrities from all over the world and the Nammos Village  – a huge brand new architecture project with an expensive shopping area. Despite the celebrities and the VIPs, many people choose Psarou because it is the perfect destination for water sports.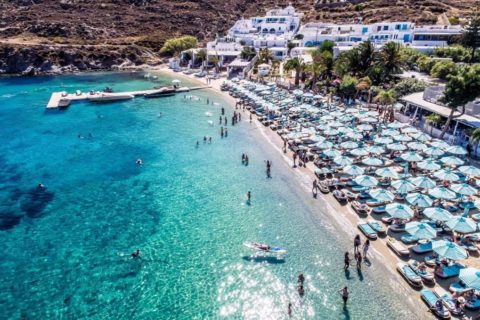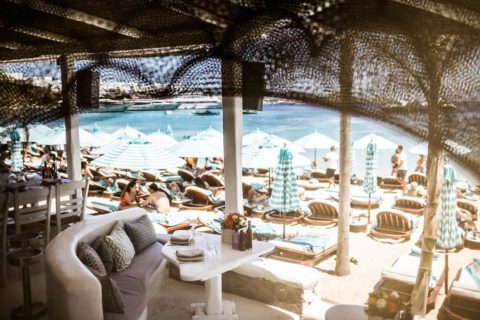 Party Beaches
Paradise beach
6 kilometres in the south of Mykonos Town, Paradise is one of the most popular beaches, well known for its parties. Famous clubs, as Cavo Paradiso, Tropicana and Paradise Club are located there. There is a parking on the beach and a bus is going to Mykonos town and back every 30 minutes–1 hour.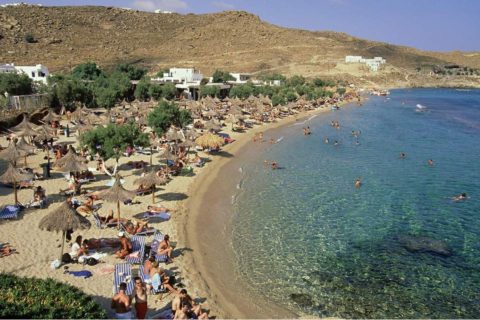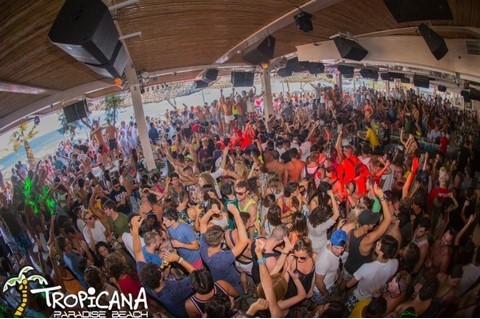 Super Paradise beach
7 kilometres from Mykonos Town, Super Paradise is as famous as its neighboring Paradise. However, the road to the Super Paradise is different and the last part of the road is very descent. Super paradise is a small party beach, where the music is playing loudly from the morning and the party continues all day long. The famous gay beach club Jackie O' is located there! Note: If you want to party with the locals, you should go there on Sunday!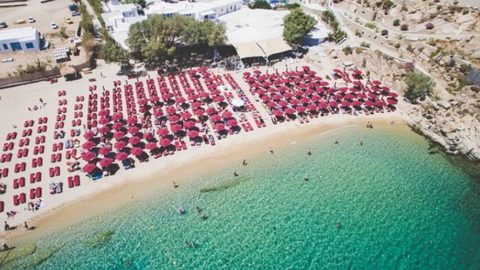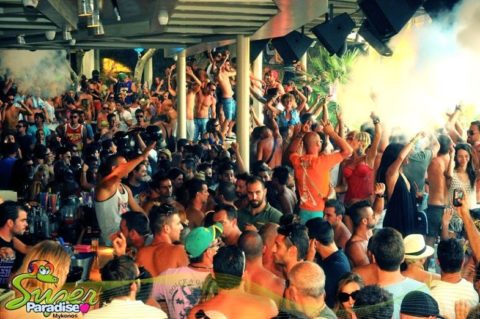 Wild Beaches
Agios Sostis Beach
If you need a break from loud music and busy beaches, then just grab a towel and head to Agios Sostis beach. The large beach is named after a beautiful small church which stands above. There are no beach chairs or bars and the nudity is allowed in the end of the beach. It's perfect for a relaxing sunbathing. There is no bus connection between Agios Sostis and Mykonos Town, so you can only reach it by your own vehicle.
Tip: Don't skip the Kiki's Taverna which is located right next to the entrance to the beach. It's an amazing small traditional place, hidden under trees and it's one of the best lunch spots in the island.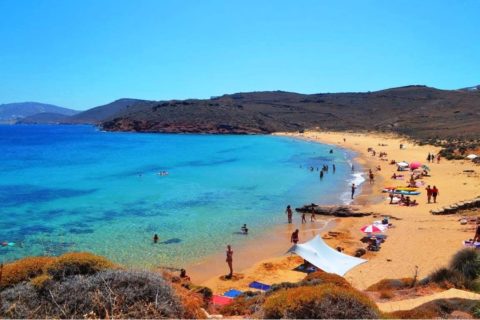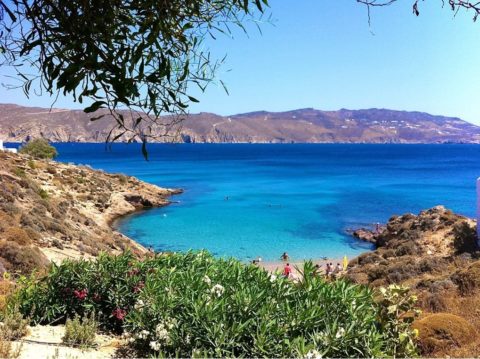 Kapari Beach
Kapari is a small "heaven" next to popular beaches Ornos and Agios Giannis. Many people choose to spend a whole day on this beach, enjoy swimming in crystal waters and see some stunning views on Delos Island. There is no direct bus service to Kapari, but there is a bus station 7-10 minutes walking distance from the beach – right next to the Agios Giannis church (Bus to Ornos-Agios Giannis).