Mykonos is a small island and the distances are short. Renting a car or a bike/scooter is the best way to see the whole island as the buses are not going everywhere. In fact, buses connect only the old town with the beaches. For example, if you want to visit a few beach bars during the day, to have dinner in town and then to continue to a famous club, it's only possible to do it by taxi or by your own vehicle. Keeping in mind that a taxi costs around 25 euro per ride to get you to the beaches as Paradise, renting a car is by far the most economical and practical solution to move around.
There are many ways to rent a car in Mykonos. It is possible to pre-book a vehicle through internet.  Prices on the online rental platforms are usually lower comparing with the "on the spot" prices. However, the pick up point for the cars rented through internet is usually Mykonos airport.
If you want to rent a car, but you do not feel safe to drive on the unknown island from the first moment you step here, we can arrange for you our free of charge arrival transfer. When you reach Sugar Blue, we will show you the map with the main roads and then you can rent a car in our premises.
The car rental company we cooperate with delivers the cars straight to the Sugar Blue and picks up the cars also from here. The prices per day are as per picture below (please add 24% VAT to calculate the final price per day):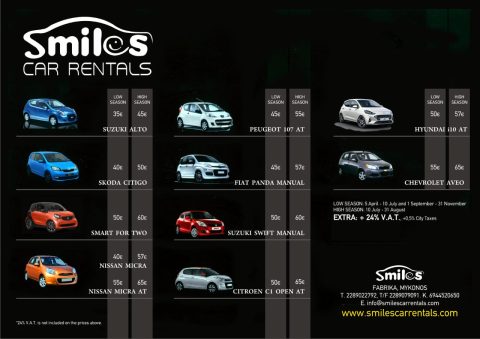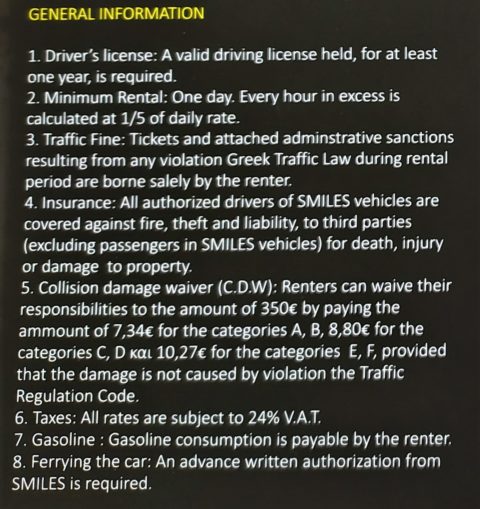 For the guests who enjoy freedom and fresh air of Mykonos, there is a possibility to rent a bike/scooter/ATV. These small vehicles cost cheaper than a car and moreover it is easier to move with a scooter on the narrow roads of Mykonos. The moto rental company we cooperate with, will come to Sugar Blue to pick you up and take you to their office so you can choose the moto you like straight there. The prices are as follows: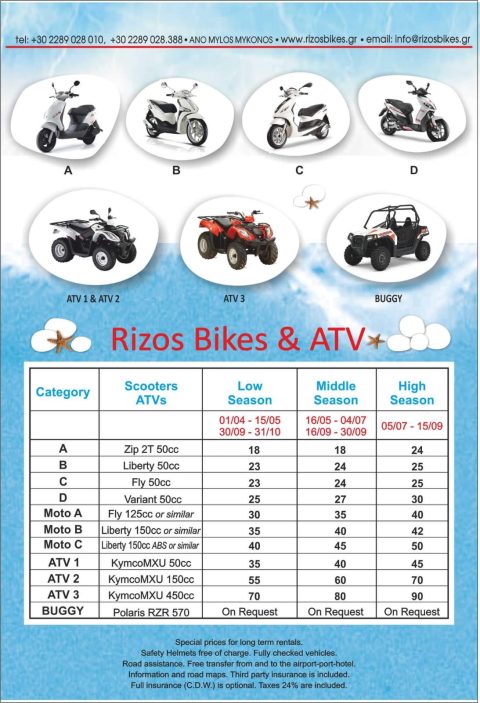 If you are not sure you want to drive, you can use different taxi companies services: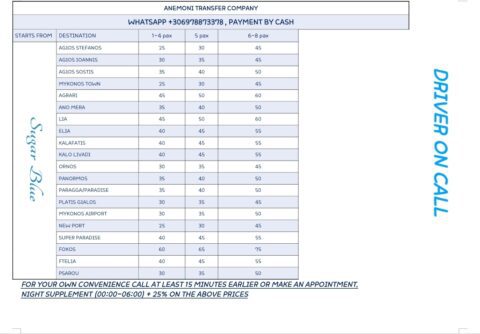 Last, but not least: there is a free private parking in Sugar Blue and there is a free public parking at the old port (entrance to the Mykonos town). The driving distance from Sugar Blue to the town is only 5 minutes by car.