Hello, we are Katia and Kostas, and Sugar Blue is our family project. As a family, we know that the values of friendship, respect and support are universal for any relationship. Being connected by these values, we want to share them with our guests, making them feel safe and welcomed while staying with us.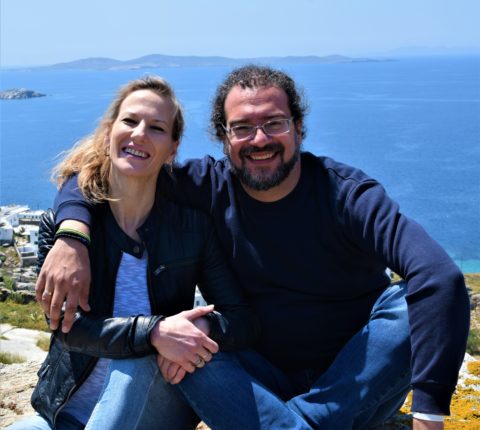 Our personal story started 15 years ago, when me Katia, came to Mykonos from Russia to make reportage about a famous destination for the Russian radio station I was working for. My guide on the island was Kostas – a local guitar player, who worked at a touristic office at that time. We met and fell in love. Now, 15 years later we are still here together, evolved to a big family with 4 children and our Sugar Blue, created in spring of 2018.  Four apartments – Love, Hope, Faith and Amarantos – were personally designed and equipped by us.
We were inspired by love to our guests and desire to develop warm and friendly relationships which will last. So, we made "Filoxenia" (Greek hospitality) our priority and our sole goal is to be a "guest friendly" property. Before creating the Sugar Blue, we were both working in tourism for years gathering knowledge of how to provide the best services quickly, qualitatively and with competitive prices. How to be professionally connected with other suppliers – car rentals, excursion and ticket offices, restaurant and club concierges. How to be always helpful and available for our guests and to offer them a beautiful stay.
From our personal experience we know that travelling can give you a magical gift of Meeting. Meeting with sea and sun, new people, other culture, or yourself. And it doesn't matter if you are single, a couple, a family, or company of friends. Life is full of surprises for all of us and all you need is to be in the right place at the right time.  We hope that Greece, Mykonos and Sugar Blue will be this right place for you!