Sugar Blue is located 1.5 km away from the cosmopolitan Mykonos Town, in Agia Sofia area. This area was named after the old church of Saint Sophia on the way to the lighthouse. Greek tradition says that Saint Sophia had three daughters: Pisti, Elpis and Agapi.  Three ancient Greek names which mean respectively: Faith, Hope and Love. So, that's how we named our apartments.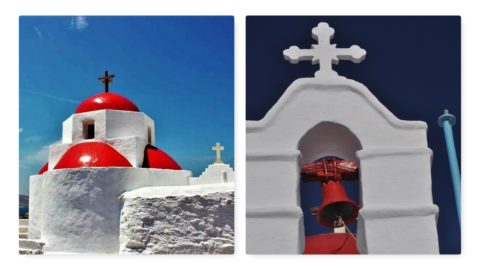 Driving distance from Sugar Blue to the old town (Chora) is only 5 minutes via the central road. There is a free private parking space in Sugar Blue and there is a big public parking (also free of charge) in the old port of Mykonos, next to the main town entrance. Chora is a pedestrian zone where vehicles are restricted.  There are 2 bus stations where you can take the bus and reach the different beaches and 2 taxi stands in Mykonos town.
The best way to explore the island is to rent a vehicle so as to be able to go to any beach or location any time you want. Popular Ornos and Platis Gialos beaches are only a 15 minutes' drive away from Sugar Blue. Party beaches Paraga, Paradise and Super Paradise can be reached from Sugar Blue in 15-20 minutes by car or scooter. The most famous "wild" beach Agios Sostis is only a 10 minutes' drive away from the property.
In case you do not have a vehicle, you can use our free of charge shuttle service. We provide two rides per day and the exact time for these rides can be arranged from the previous day. In the morning or in the noon we take our guests downtown with our 7seated car and in the afternoon, until 9pm, we pick them up from town and return back home. Most of the times, our shuttle rides are private. Drop off/pick up point is easy to be found: it is the yacht club in the old port of Mykonos.
Also, it is possible to go to the old town on foot. Walking distance is around 20 minutes from Sugar Blue to the town's entrance. First you walk along the road and then through the picturesque local path. The view from the path is really stunning.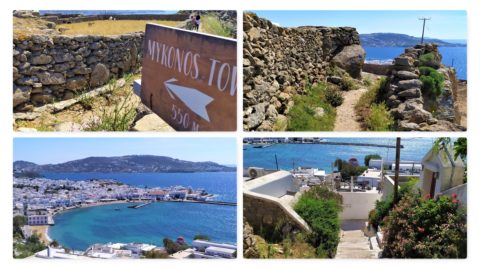 Since the landscape of Mykonos is hilly, it is easy to walk downtown, but you may feel tired to return on foot as the returning way is going up. So, it is possible to combine walking with our shuttle service. You can go downtown on foot to enjoy the beautiful path and you can send us a message to pick you up from town in the evening with our car.
We always help our guests to find the most convenient way for them to go around and to explore the island. There are the special info folders in each apartment with the links for e-taxi applications, car rental brochures and printed bus timetables.